The Kaplan Public Service Foundation (KPSF) is a 501 (c) (3) all-volunteer, nonprofit, educational, travel and philanthropic association providing citizen leaders the opportunity to discern and become knowledgeable with national security affairs affecting the geo-political and economic interests of the United States.  
Civilians are invited to join us as we visit service members, military allies, foreign partners, and diplomats both in the United States and around the world to better understand, report and discuss the challenges faced by our armed forces, national security practitioners, and partners. 
KPSF participants return from programs as information ambassadors providing insightful appreciation of the service and sacrifices of the men and women serving the United States, along with our allies and partners, and their families, which serve right beside them.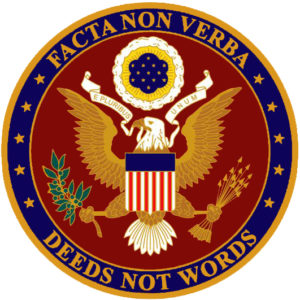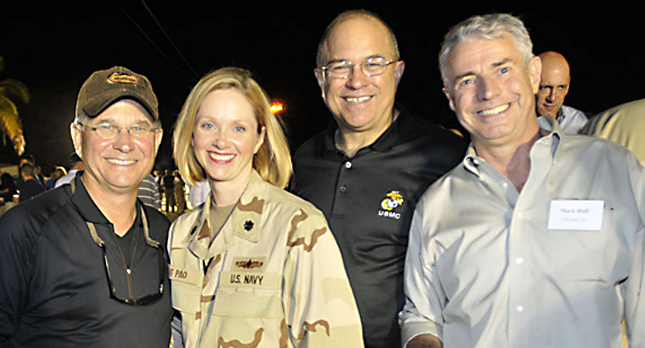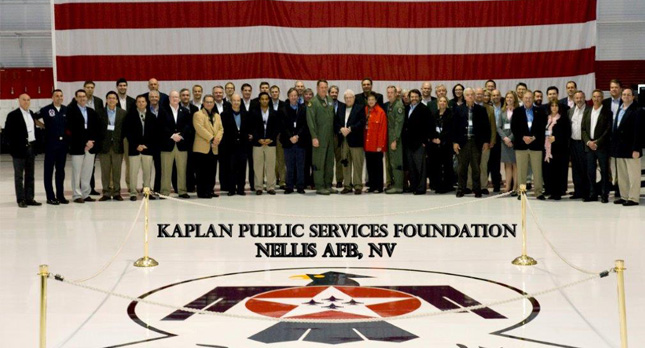 The Kaplan Public Service Foundation provides invaluable support to our military men, women and their families. Their efforts in providing an opportunity to educate civilians on the challenges our troops face in today's environment continues to pay the highest of dividends."
– Mark Fitzgerald, Admiral, United States Navy (retired)
Bases Visited
3rd Combat Aviation Brigade and 10th Mountain Division, Powidz Baza Wojskowa, Powidz, Poland
Marine Corps Mountain Warfare Training Center, Bridgeport, CA
United States Military Academy, West Point, NY
3rd Special Forces Group (Airborne), Fort Bragg, NC
Naval Base Point Loma, San Diego, CA
Fort Hood, TX
Brooke Army Medical Center, San Antonio, TX
Nellis Air Force Base, NV
Creech Air Force Base, NV
Submarine Group 10, Kings Bay, GA
Joint Task Force Guantanamo, Guantanamo Bay, Cuba
Walter Reed Army Medical Center, Washington, DC
Andrews Air Force Base, MD
Marine Barracks, Washington, DC
Naval Submarine Base New London, Groton, CT
US Naval War College and Surface Warfare Officer School, Newport RI
US Coast Guard Academy, New London, CT
Coast Guard Sector New York, Staten Island, NY
Some of the gifts and beneficiaries of your generous support made by the Kaplan Public Service Foundation
Volunteers for Ukraine
United 24
Family for Every Orphan
USO (Eastern Europe)
Warsaw Education Fund
Kind Deeds

Outdoor Fitness Pavilion and Equipment to the Marine Corps Mountain Warfare Training Center, Coleville, CA

Tapa Military Base, Estonia (new basketball court for the Estonian and NATO allies and their families)
Ford 350 XLT 15 PASSENGER Transit Vehicle – U.S. Army Garrison West Point
Six (6) TRX Tactical Training Boxes, THOR 3
Walter Reed Society
Intrepid Fallen Heroes Fund
Center for the Intrepid (rehabilitation equipment donated)
Fort Hood (new training equipment for the gymnasium)
Special Operations Warrior Foundation
Dolphin Scholarship Foundation
Marine Corp Scholarship Foundation
MWR Fund of the 99th Force Support Unit
MWR Fund of the 432nd Wing
MWR Fund Submarine Group 10
MWR Fund GTMO
Air University Foundation
MWR Fund Point Loma
MWR Fund COMSUBPAC
Airman's Attic, Barksdale AFB, LA (new exterior donation shed)
Coast Guard Sector New York (New basketball court and fire pit for the base)
While we often hear the words, "thank you for your service," very few American civilians today know anyone in the military or have any idea how to put their benevolent feelings into action. This is what makes the Kaplan Public Service Foundation so special. I have never encountered a collective group of individuals who so deeply respect and care for our men and women in uniform at a time when they are so easily forgotten. The Kaplan Public Service Foundation is investing in what I believe to be our nation's most valuable asset – the young American Soldier. The Kaplan Public Service Foundation does so much more than simply bridge the gap between the civilian and military communities – it changes lives. Their selfless service, generosity and commitment to my platoon is something for which my troops and I am eternally grateful."
– Captain Nicholas Westendorf, United States Army (retired), 1st Platoon, 87th Sapper Company